On almost every photo blog I frequent there is at least one picture of Christmas light bokeh. I have been so inspired by the beautiful shapes and lights created and I had to try it. The Good to Wow prompt this week is "Bokeh Lights," which gave me a great excuse to make my first attempt at intentional bokeh. I found the
tutorial
Jill posted to be extremely helpful. I had to work with the lens I had though, which meant that I couldn't open my aperture up as wide as I should have. Despite this fact and some frustration in setting up the shot, I am extremely pleased with the results. I set a table up in front the tree, put a mirrored plate down for some nice reflection and then placed a lit candle on top in blue to match the tree light colors. It is SOOC, except that I straightened it a tad bit as my tripod and I had some difficulty working together.
Settings: ISO 800, 44mm, ss1/10, f/5.0 (full manual, tripod, tungsten wb)
Linking up with Good to Wow and the other link ups below! Head over and check out the other SOOC and other shots.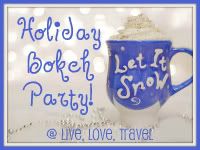 I also played around photographing the outside lights with a
tutorial
that Courtney at Click it Up a Notch posted about how to get beams of Christmas lights. It is so fun! You should give it a try :o). I will be trying out some more bokeh and light related shots in the coming days. I enjoyed learning and trying out new techniques and appreciating the lights of the holiday in a different way!
Settings: ISO 100, 96mm, ss4.0 sec, f/5.0 (full manual, tripod, tungsten wb)
"

Christmas is not in tinsel and lights and outward show. The secret lies in an inner glow. It's lighting a fire inside the heart. Good will and joy a vital part. It's higher thought and a greater plan. It's glorious dream in the soul of man." - Wilfred A. Peterson